Travelling with animals
If you want to take an animal abroad with you, you should ask the official veterinarian (district authority or magistrate) about the regulations of your holiday country already before your holiday.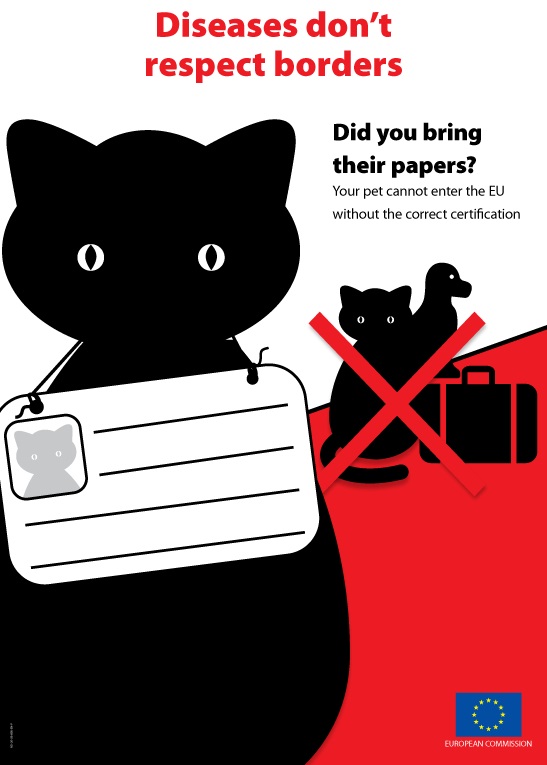 When entering or re-entering from third countries, your animal must as a rule be examined by a border veterinarian.
Please note: A border veterinary service is not set up at every customs office (for air traffic, for example, only at the airports of Vienna and Linz). You would then have to move to an appropriate customs office.
As regards tourist travel exemptions from border veterinary control, applied to pet animals, are summarised in the following document: Vetenary rules for pets in travel (PDF, 432 KB)(only in German language).
Please note that these regulations also apply to the transport of animals that you may have taken to your heart at your holiday destination (beach dog, hotel cat) and would like to bring home.
Obligation to declare pet animals under customs law
In the case of pet animals, customs will carry out the necessary checks. All pets must always be declared unprompted to the customs office – in Austria at the airports of Vienna, Linz, Salzburg, Innsbruck, Graz and Klagenfurt – when entering the country, with presentation of the animal health certificate or pet passport and any other documents necessary for carrying out the prescribed checks.
This also applies to those pet animals for which no special documents are required! At these airports therefore the so-called "green channel" (specially designated exit for travellers who do not import goods to be declared) may not be used, but the so-called "red channel" (specially designated exit for travellers who import goods to be declared) must always be used.
This declaration obligation does not apply to entries from EU Member States and the following third countries: Andorra, the Faroe Islands, Gibraltar, Greenland, Iceland, Liechtenstein, Monaco, Norway, San Marino, Switzerland, Vatican City and Northern Ireland. Even if there is no obligation from these states to provide a declaration obligation for pet animals, the customs authorities are nevertheless entitled to carry out random checks with regard to compliance with the veterinary regulations for pet animals.
Non-observance of this declaration obligation may result in consequences under fiscal and penal law!
Folder Dogs, cats & Co. abroad – A service for travellers with pets (only in German language)
Moreover, please pay attention to any  CITES regulations.
Advice
Legislation allows additional requirements to be laid down for Member States; at present, entry into Finland, Ireland, Malta and the United Kingdom is subject to anti-tapeworm treatment for dogs.
Invasive alien species
Certain animals and reproductive parts of such animals (hatching eggs, fish spawn) may be subject to an import prohibitions also for the reason that they belong to invasive alien species.
A species is alien if it is a species that has been introduced into the EU from its natural range and can survive and subsequently reproduce here. An alien species is invasive if its introduction or spread endangers or adversely affects biodiversity and related ecosystem services. In addition, invasive alien species can have significant adverse effects on human health and on economy.
Importation of certain animals and their reproductive parts into the EU has therefore been banned. For details and further information please see  https://www.neobiota-austria.at/.